Artolsheim Memorial
550 Squadron Lancaster LM392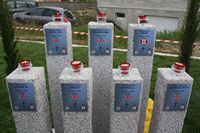 F/Lt J S G Crawford and crew
Inauguration of a memorial to F/Lt Crawford and the crew of LM392:
The entry on the 550 Squadron Roll of Honour is available here.
For more information see also the F/Lt Crawford crew page.
Unveiling Ceremony April 2014
A selection of photographs from the Commemoration Service in Artolsheim, France in April 2014.
Thanks to George Turner for making the pictures available.
Click on individual pictures to view the larger image.
For a video report on the events of the day see also the following TV report (in French).