Ottrott Memorial
550 Squadron Lancaster NE164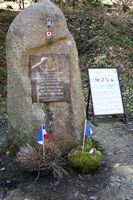 F/O Jones and crew
The Memorial Stone in memory of F/O Jones and crew of NE164.
There were three fatalities, two in the aircraft and the third the bomb-aimer Sgt Francis Habgood. Sgt Habgood was captured and, according to a French website (link provided), he was taken to Natzweiler-Stuthof concentration camp where he was executed on or about the 30 July 1944. This was the only permanent concentration camp in France, it was not far from the crash site in the Alsace region and was a place used for the execution of large numbers of Maquis. A few Allied airmen were also killed there, including, it seems, two of the Great Escapers. Sgt Habgood is commemorated on Panel 230 of the Runnymede Memorial, his date of death being recorded as 31 July 1944.
Three members of the crew became PoWs. The last, F/O Dinney RCAF, evaded capture (see file 6/646/2311 in The National Archive). This was one of two 550 Sqdn Lancasters lost on this operation (see also LM455).
The entry on the 550 Squadron Roll of Honour is available here.
For more information see also the F/O Jones crew page.
Association Visit April 2018
A selection of photographs from a visit to Ottrott (Alsace), France in April 2018.
Thanks to George Turner for making the pictures available.
Click on individual pictures to view the larger image.