Rebecq Commemorations
550 Squadron Commemorations in Rebecq, Belgium
JA712/BQ-H
Photographs from the commemoration services in Rebecq for P/O E C Purney and the crew of JA712 who lost their lives when their plane was shot down by a German night-fighter during the night of 27/28 May 1944 as it was coming back from a bombing mission over Aachen. The aircraft crashed at Rebecq-Rognon (Brabant), 25 km SW of Brussel. Also commemorated are the townfolk of Rebecq who came to the aid of the sticken crew-men some of whom who paid with their lives.
The following crew members were killed and are buried in the cemetery at Brussels-Evere:
Their entries on the 550 Squadron Roll of Honour can be viewed here.
Two members of the crew survived:
For more information about the crew see also the P/O Purney crew web-page.
Click on the pictures below to see photographs of recent commemoration events.
Commemoration 2022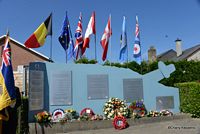 (click on picture)
Photographs taken at the May 2022 commemoration service
Commemoration 2021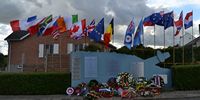 (click on picture)
Photographs taken at the September 2021 commemoration service
Commemoration 2019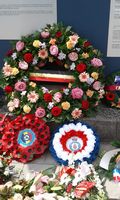 (click on picture)
Photographs taken at the May 2019 commemoration service
Commemoration 2018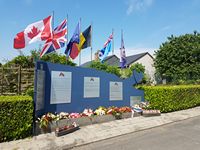 (click on picture)
Photographs taken at the May 2018 commemoration service
Commemoration 2017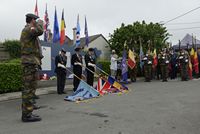 (click on picture)
Photographs taken at the May 2017 commemoration service

Jack Harris gave a short address, and was presented with drawings by local school children
Commemoration 2016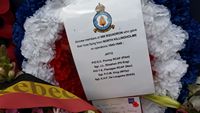 (click on picture)
Photographs taken at the May 2016 commemoration service
Commemoration 2015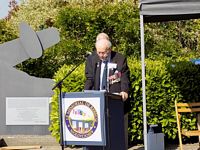 (click on picture)
Photographs taken at the May 2015 commemoration service

Jack Harris gave a short address
Commemoration 2014

(click on picture)
Photographs taken at the May 2014 commemoration service

A new plaque added to the memorial to commemorate all of the 550 air-crews lost over Belgium
Commemoration 2013
| | |
| --- | --- |
| (click on picture) | Photographs taken at the May 2013 commemoration service |
Commemoration 2012

(click on picture)
Photographs taken at the May 2012 commemoration service

The photo features a fragment of the 550 aircraft recovered from the crash site (and now in the museum in North Killingholme)
Unveiling 2011
| | |
| --- | --- |
| (click on picture) | Photographs taken at the unveiling of the memorial in May 2011 |