Bussy-La-Cote Memorial
550 Squadron Lancaster LL837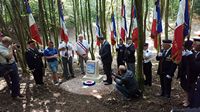 W/Cmdr Connolly and crew
Inauguration of a memorial to W/Cmdr Connolly and the crew of LL837 which was lost on the raid on Revigny, 14 Jul 1944.
The following crew members were killed and are buried in the cemetery at Bussy-La-Cote:
W/Cmdr Connolly was the Squadron Commanding Officer and F/Lt Fuller was the Squadron Senior Gunnery Officer.
Their entries on the 550 Squadron Roll of Honour can be viewed here.
For more information about the crew see also the S/Ldr B J Redmond crew web-page.
Unveiling Ceremony July 2019
On the 13th July 2019 a ceremony took place to unveil a memorial to the crew in Bussy-La-Cote, France. The 550 Squardron Assocation would like to thank all those who made the unveiling of this memorial possible.
A selection of photographs from the unveiling ceremony are shown below. Thanks to Alan Watson for making the pictures available.
Click on individual pictures to view the larger image.
Alan Watson, a nephew of Cecil Watson the rear-gunner, said a few words and unveiled the memorial. He laid a wreath on behalf of the 550 Squardon Association thanking these men who gave their lives in the defence of freedom in Europe.
Fragments from the Lancaster crashed at Bussy La Cote.
The Lancasterís were sent to bomb the Station and Railway line at Revigny to stop the Germans getting their supplies through. It turned out that on that night it was too misty, or foggy, to see the target so they turned round without dropping their bombs, to come back to North Killingholme but that is when they got shot down. The plane split and the bomb landed about 400 yards away from the plane. The wood caught fire when the bomb exploded and it took quite a while to get the fire out.